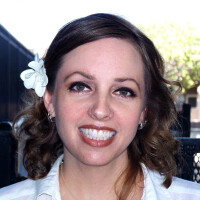 My name is Denise Vick and I'm the Director of the Children's Growing Center. I'm a native San Diegan and happily live with my beloved husband. I'm also a devoted aunt to three nephews and one niece, all of whom attended CGC!
I've always loved children and began working in the field of Early Childhood Education in 1990 as an afternoon aide at a Montessori preschool. Once I had the "preschool bug" I quickly changed my college major to Child Development while attending Cuyamaca and Grossmont community colleges.
I then went on to a for-profit center as the Lead Teacher of the infant and toddler room and Educational Coordinator for over six years. I've been the Lead Teacher in the Silver Team, Supervising Teacher of the entire CGC staff, and Substitute Director at the Children's Growing Center since December of 1997 and became Director of CGC in September 2011.
I graduated with a BA in Human Development from Pacific Oaks College with an Infant/Toddler Specialization. I also have my child center permit, I am CPR/First Aid certified, and I am a member of the National Association for the Education of Young Children.
I've have known my entire life that I wanted to work with children in some capacity. I'm amazed and honored everyday to see them grow and develop as they move throughout our school. I love that I get to partner with the parents, teachers, and children to make CGC a nurturing, supportive community and give our children the best start in life!
I invite you to contact us... to learn more about the program at the Children's Growing Center...
Denise Vick, Director at the Children's Growing Center